Legos have been favored by children and adults alike since 1949 when the company built its first block. Eventually, the brand got around to patenting their designs in 1958, solidifying them as an essential toy in households across the world. Nearly 75 years after the first Legos were constructed, Lego packages are more versatile and unique than ever. You can build functional tools, detailed race cars, pieces of artwork and more with these little contraptions. But the best Lego sets for adults must be complex, challenging, and rewarding to use. By pairing a high-quality puzzle with architectural designs, adults are sure to be mesmerized by the task at hand for hours.
Take a look at these great Lego gifts for the person on your gift-shopping list who's never stopped loving building with Legos.
The cool thing about LEGO sets is that we can choose options that are in alignment with our interests. So, if we're superhero fans, we can find a kit that highlights a Marvel character. If we're a Star Wars fan, we can build Darth Vader. And if we're interested in politics, we can build the LEGO Architecture Collection's White House. This building kit comes with 1,483 pieces that highlight realistic, authentic parts of the White House. In fact, it's so detailed that you can point out key areas like the Executive Residence, the West Wing, the East Wing, the Rose Garden, and even the Jacqueline Kennedy Garden. All of these elements work together to make a truly unforgettable building experience that highlights architecture like nothing else.
In addition to highlighting key elements of the White House, builders will also notice that this kit does demonstrate the neoclassical elements of the actual White House, which is one of the things that makes it so realistic. While many LEGO kits are fantasy-fueled, this one is rooted in history, education, and architecture, which makes it stand out from other products. The result is a captivating, challenging product that is likely to satisfy even the most gifted builders.
Key Features
Multi-color
Non-toxic
Captures Neo-classical design
Can easily be divided into 3 sections
Specifications
Brand: LEGO
Set Number: 21054
Theme: Architecture
Pieces: 1483
Mini Figures: No
Age Suitability: 18+
Pros
Realistic
Travel and history oriented
Educational
Tall
Cons
Assembly can be tedious at times
Buy This Product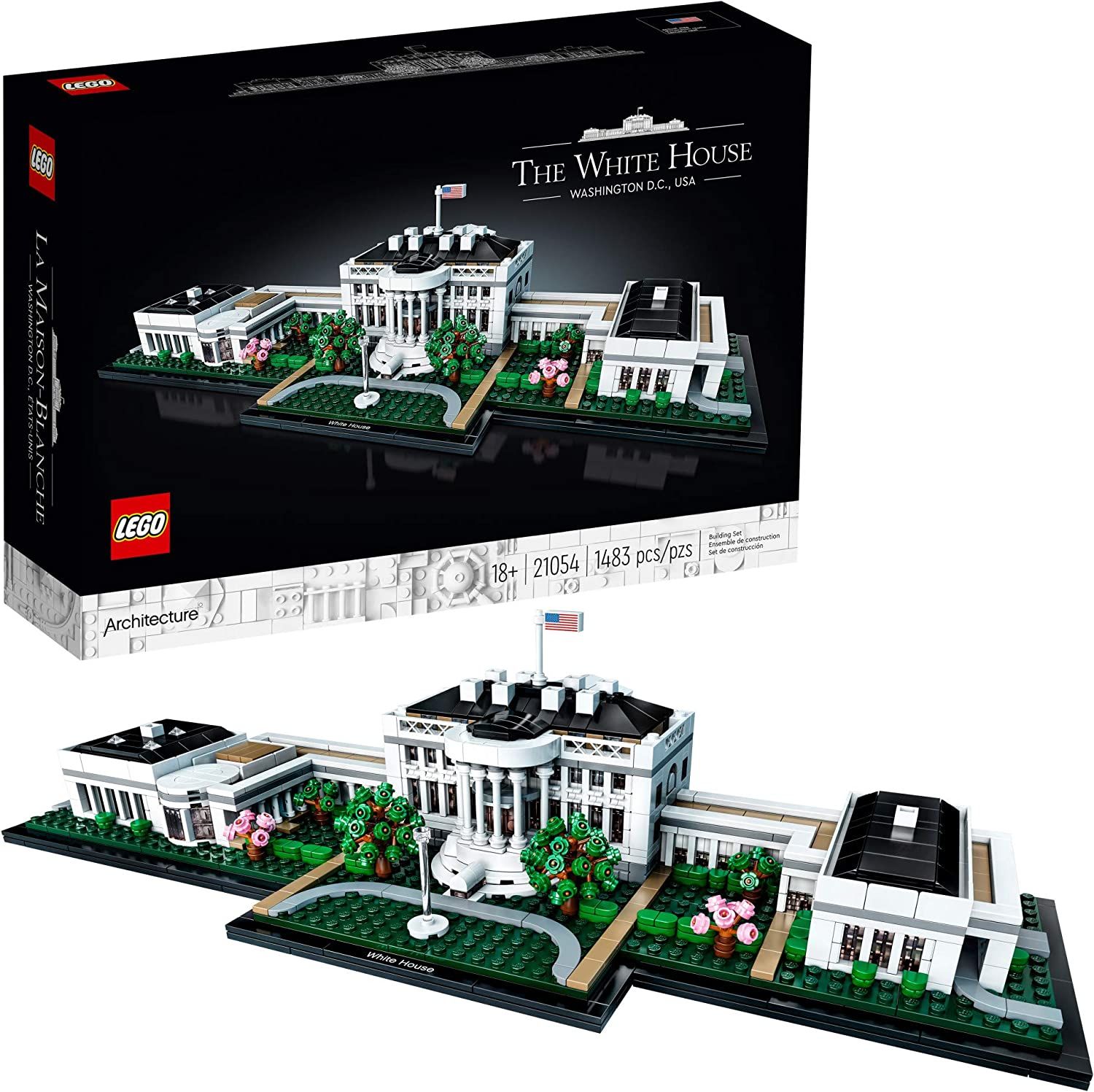 LEGO Architecture Collection: The White House Model Building Kit
If you or someone you know loves model trucks, we might have the perfect gift for you. The LEGO Icons Pickup Truck is a 1,677-piece building kit that creates an old, vintage truck. Featuring colorful pieces, you can expect the red to show through as if it were truly metallic. But the truck also comes with a series of accessories to create additional flare. In fact, the truck comes with a wheelbarrow, a watering can, vegetables, a milk pail, a crate filled with pumpkins, and a few more festive items.
But we especially love the fluid design of this pickup truck.
The LEGO Icons Pickup Truck has a variety of realistic features like a stepside bed, doors that open, a tailgate, and removable wooden side railings. Together, these elements work to create a realistic, eye-catching piece of art to add to your car collection. Our only caveat is that the pieces break apart relatively easily, which can make it difficult to finish the vehicle unless you operate with extra care. Compared to some competitive LEGO sets, this one is a little bit more flimsy than we'd like it to be. But, overall, it's a great option for anyone who loves vehicles and LEGO kits with moving parts.
Key Features
2021 release
Measures 5.5-inches by 13-inches by 5.5-inches
Truck can be steered
The doors open
Specifications
Brand: LEGO
Set Number: 10290
Theme: Vehicle
Pieces: 1677
Mini Figures: No
Age Suitability: 18+
Pros
Vintage style
Construction-oriented
Cute accessories
Colorful pieces
Buy This Product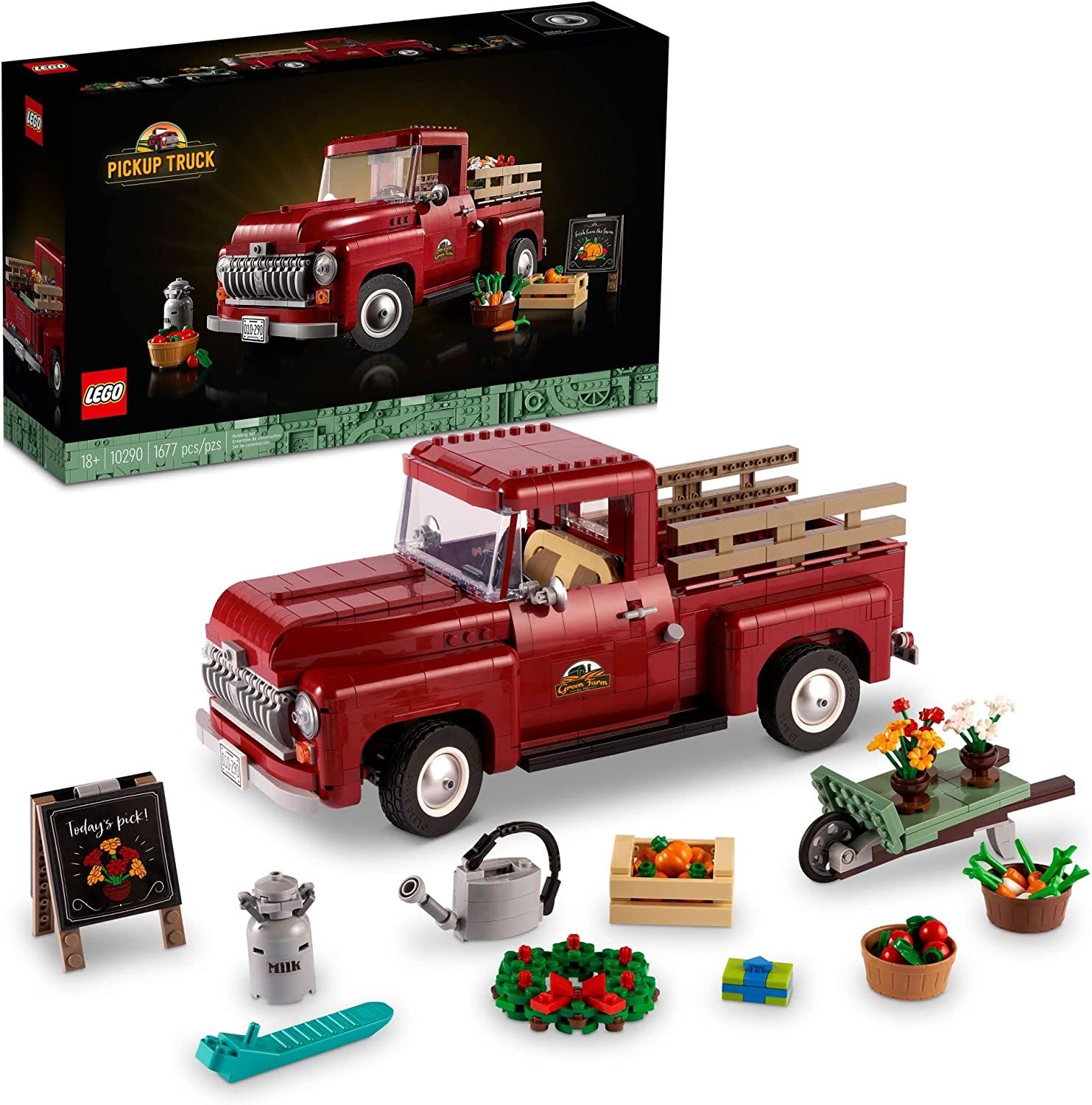 Have you ever wanted to expand your love of LEGOs into your other belongings? Sure, you're always going to love your building sets. But have you ever seen this mug? The LEGO Build-on Brick Coffee Mug allows you to take your hobby with you. In fact, this mug comes with a randomly selected minifigure, a vehicle, and a random collection of blocks that allow you to play with the pieces all day long. This mug is also available in 9 different colors, so you can pick from iconic options like black, blue, green, orange, pink, and more!
This cup is also BPA-free, which is an essential component for a product like this. But it requires a little bit of extra care. This mug should not be placed in the dishwasher. Instead, you should wash it by hand. Additionally, it should not be placed in the microwave. But i can hold liquid that's as warm as 100-degrees Celsius, which means that it will comfortably hold most liquids. So, you can drink your coffee, tea, and water from this cup without worrying about melting your awesome LEGO set. Overall, this is one of our favorite picks when it comes to LEGO gifts that push the limit.
Key Features
Available in 9 colors
Includes a mini figure
Comes with a vehicle and a random package of blocks
Can be assembled
Specifications
Material: Plastic
Ounces: 11
Insulated: No
Leak-proof: NA
Weight: 9.9 ounces
Dimensions: 5.51 x 4.92 x 3.94 inches
Dishwasher Safe: No
Pros
Functional
Fun
Creative
Makes a great gift for LEGO lovers
Buy This Product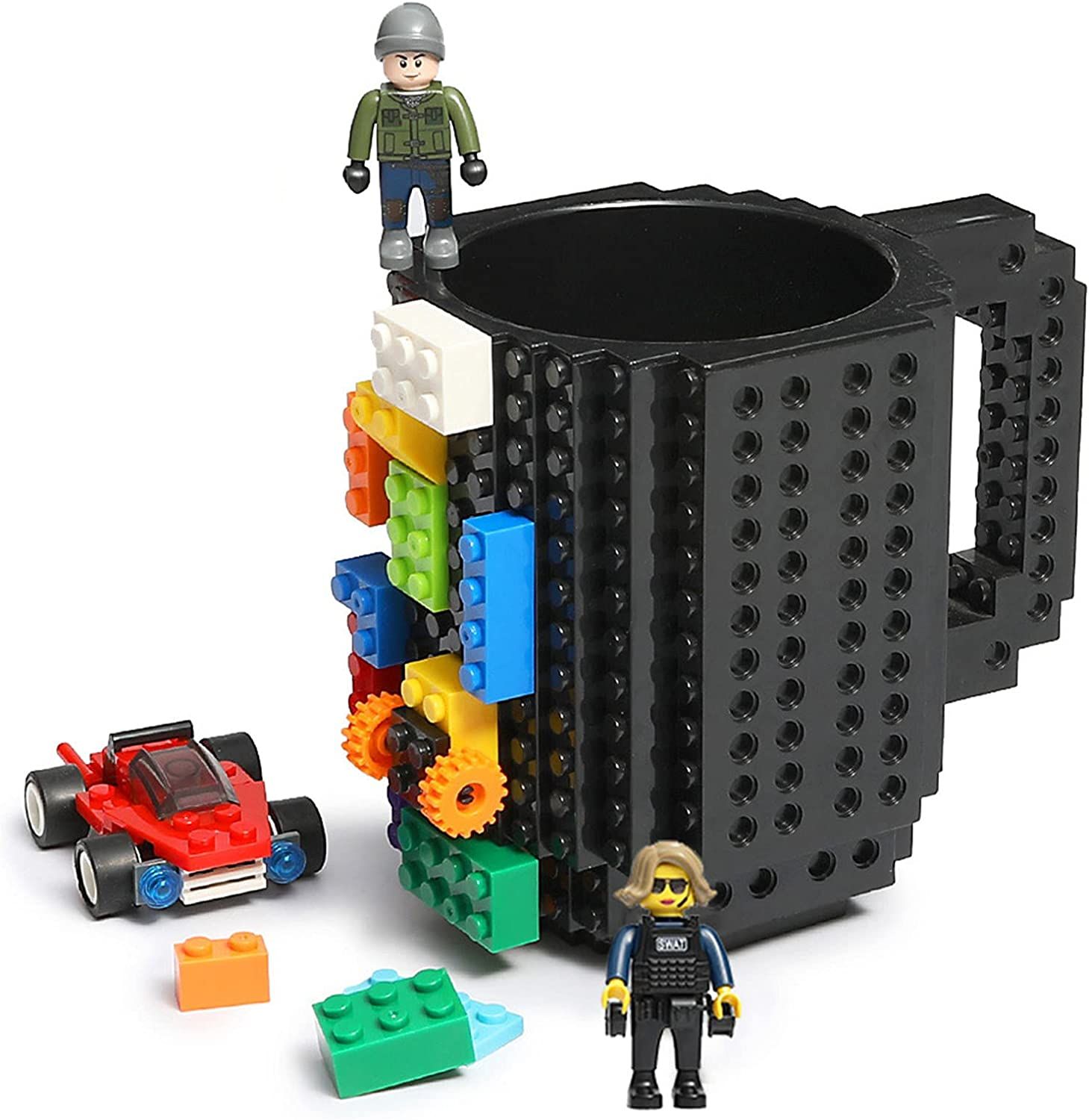 Build-on Brick Coffee Mug
When most people imagine LEGO sets, they think of Star Wars, or other fantasy-themed sets. And, while those sets are great in their own right, it can be really nice to see some variety in terms of the themes that LEGO offers. Enter: The Lego Icons Succulents. This building set comes with 771 pieces, is designed for adults of the age of 18 and up, and the end product includes 9 succulent plants. Featuring fun and vibrant colors, you can expect these plants to be eye catching without overwhelming. And they are relatively realistic, as well.
The Lego Icons Succulents building set is a plastic, multicolor set that's best for those who appreciate a challenge. While it's not LEGO's most challenging building set, it does require some organization and strategy to complete. And you probably won't be finishing this kit in one setting. But isn't that what we love about LEGO kits to begin with? The process and the eventual outcome? This kit also comes with the LEGO botanical collection, highlighting realistic items. When you're done building your set, you can use these plants as decorative pieces in the office, or disassemble them for another challenge at a later time.
Key Features
Floral Theme
Colorful and realistic pieces
Includes 9 different plants
From the LEGO botanical collection
Specifications
Brand: LEGO
Set Number: 10309
Theme: Plants
Pieces: 771
Mini Figures: No
Age Suitability: 18+
Pros
Great value
Cool final product
Just challenging enough
Relaxing kit to build
Cons
Some parts may be too topheavy to stay intact
Buy This Product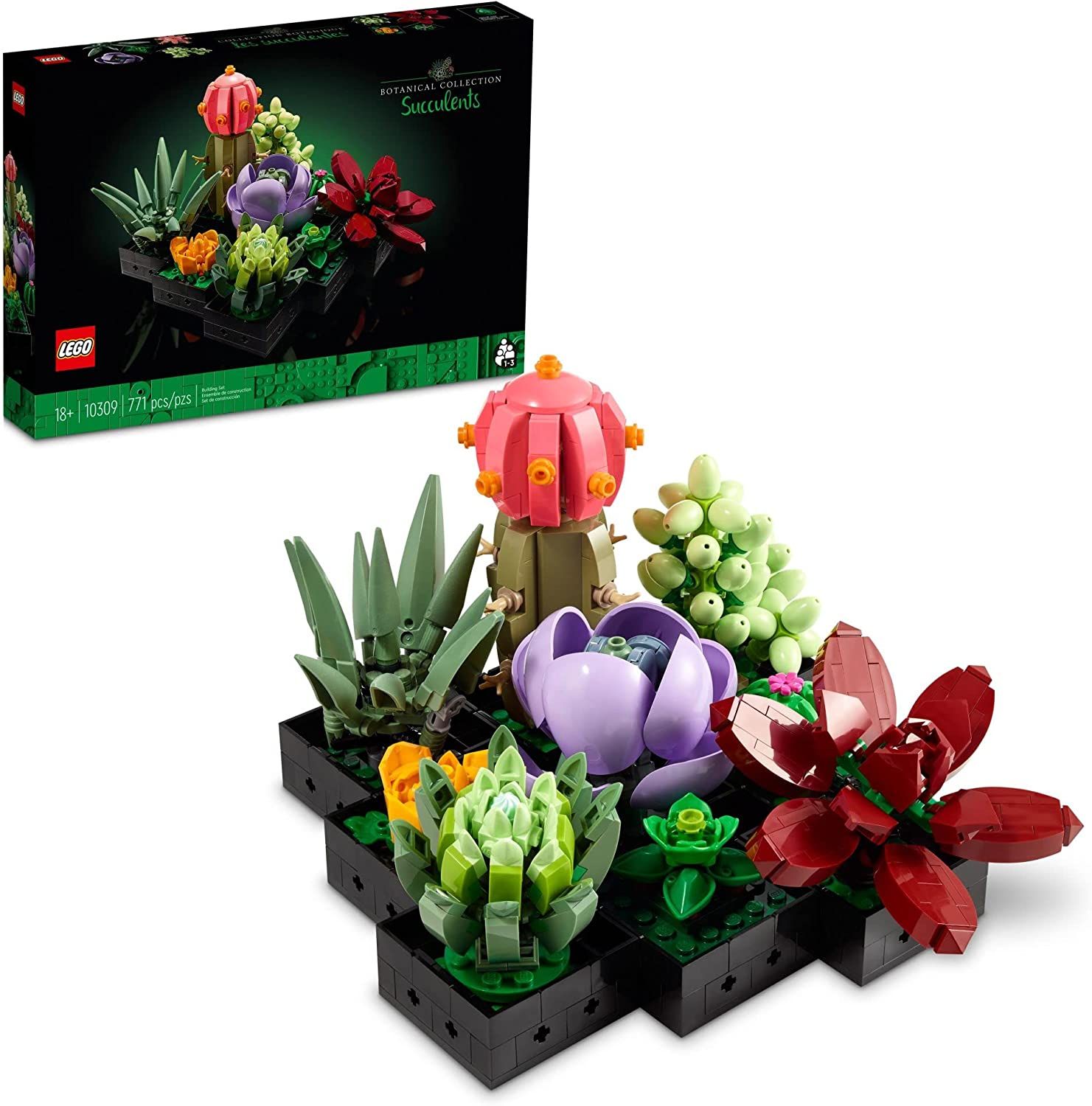 There are a few historical shows that could play non-stop on the television, and you'd never get sick of them. Friends is one such show. Another might be How I Met Your Mother. But one of the most iconic shows was always Seinfeld. And now you can bring your love of Seinfeld to the LEGO world with the LEGO Ideas Seinfeld Building Kit. This kit comes with 1,326 brilliant pieces and accessories. It's a nostalgic kit for adults who lived through the 90s. And it's a great collectible item for those who love adding LEGO kits to their world.
The LEGO Ideas Seinfeld Building Kit features Jerry's very own apartment. And it comes with all of the classic items you'll remember from the show like a fridge with a Superman sticker on it. But there are also standard apartment items like a buildable counter, a sofa, a microwave, an armchair, and plenty more. If desired, you can even include a muffin top, Prognosis Negative videotape, Commando 8 air condition and Festivus pole in your Seinfeld world. The whole building process is fun, creative, and best suited for adults due to the challenging nature of the kit. Few kits provide the same captivation!
Key Features
Includes TV characters from Seinfeld
Easy storage
Recreation of Seinfeld's apartment
5.5 inches high
Specifications
Brand: LEGO
Set Number: 21328
Theme: TV Show
Pieces: 1326
Mini Figures: Yes
Age Suitability: 18+
Pros
Included show accessories
Includes buildable stage
Unique
Ideal for Seinfeld fans
Buy This Product
Everyone loves a good bonsai tree. The stubby little trunk is usually girthy and stable in strength, while the leaves and upper branches often lie in a horizontal pattern. It's an eye-catching and loveable tree, which is one of many reasons why LEGO created the Icons Bonsai Tree Building Set. This set comes with 878 pieces – some of which are interchangeable. This means that you can design the tree to be individual, and in complete alignment with your preferences. It also comes with pink cherry blossoms, which can easily be installed in place of the standard leaves, if desired. So, you could even adjust this tree as the seasons pass by.
Also of note is that there's a clever, discreet frog design hidden in the cherry blossoms. And this gives the kit a little bit of extra flair. When fully assembled, the LEGO Icons Bonsai Tree stands just over seven inches tall, which is large enough to make the assembly process a little bit challenging. But it's also large enough to make a great paperweight or decorative piece in your home or office. The whole product is also fairly lightweight, coming in at just 1.63 pounds. After everything is said and done, this tree is a great pick for those who love nature.
Key Features
Floral themed set
Includes vibrant cherry blossoms
Interchangeable pieces
Measures over 7 inches in height
Specifications
Brand: LEGO
Set Number: 10281
Theme: Floral
Pieces: 878
Mini Figures: No
Age Suitability: 18+
Pros
Cute
Great decorative piece
Good for mindfulness
Giftable
Cons
Trunk could use more connections
Buy This Product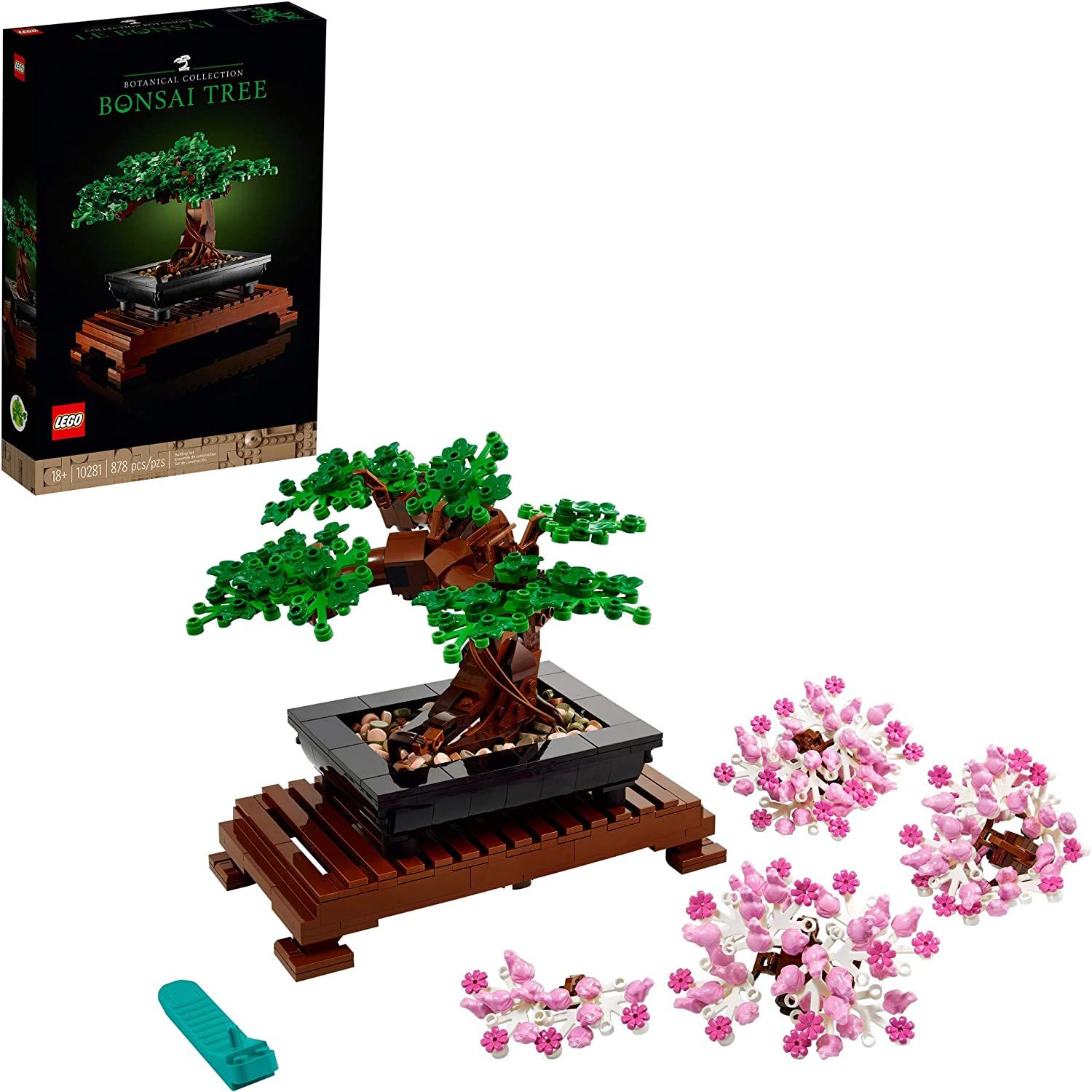 Marvel fans know how much the films and film paraphernalia can light up the soul. You can dive into a puzzle or a Marvel LEGO set, and suddenly your heart is on fire and you're feeling more inspired than ever. For this purpose, the LEGO Marvel Super Heroes Infinity Gauntlet Building Set is ideal. This set comes with 590 pieces that help to recreate an authentic representation of the Thanos Gauntlet. This is the iconic hand that wipes half of the population off of the planet in a heartbreaking incident.
Built for adults, the LEGO Marvel Super Heroes Infinity Gauntlet Building Set is intended to be challenging to assemble. It isn't recommended for children below the age of 18, and with good reason! As simple as this piece is, it requires a fair amount of creative thinking and ingenuity to complete the project. And the hand is a little bit more fragile than we'd like it to be. But in the end, it's all worth it because you'll get to have your very own decorative gauntlet. And there's nothing better than finding ways to stay emotionally connected to your favorite heroes. Luckily, the LEGO Marvel Super Heroes Infinity Gauntlet Building Set is the perfect medium!
Key Features
Non-toxic
Authentic recreation
Includes colorful infinity stones
Measures over 12.5 inches in height
Specifications
Brand: LEGO
Set Number: 76191
Theme: Movie
Pieces: 590
Mini Figures: No
Age Suitability: 18+
Pros
Boosts creative thinking
Realistic
Not overly challenging
Stand-out piece
Buy This Product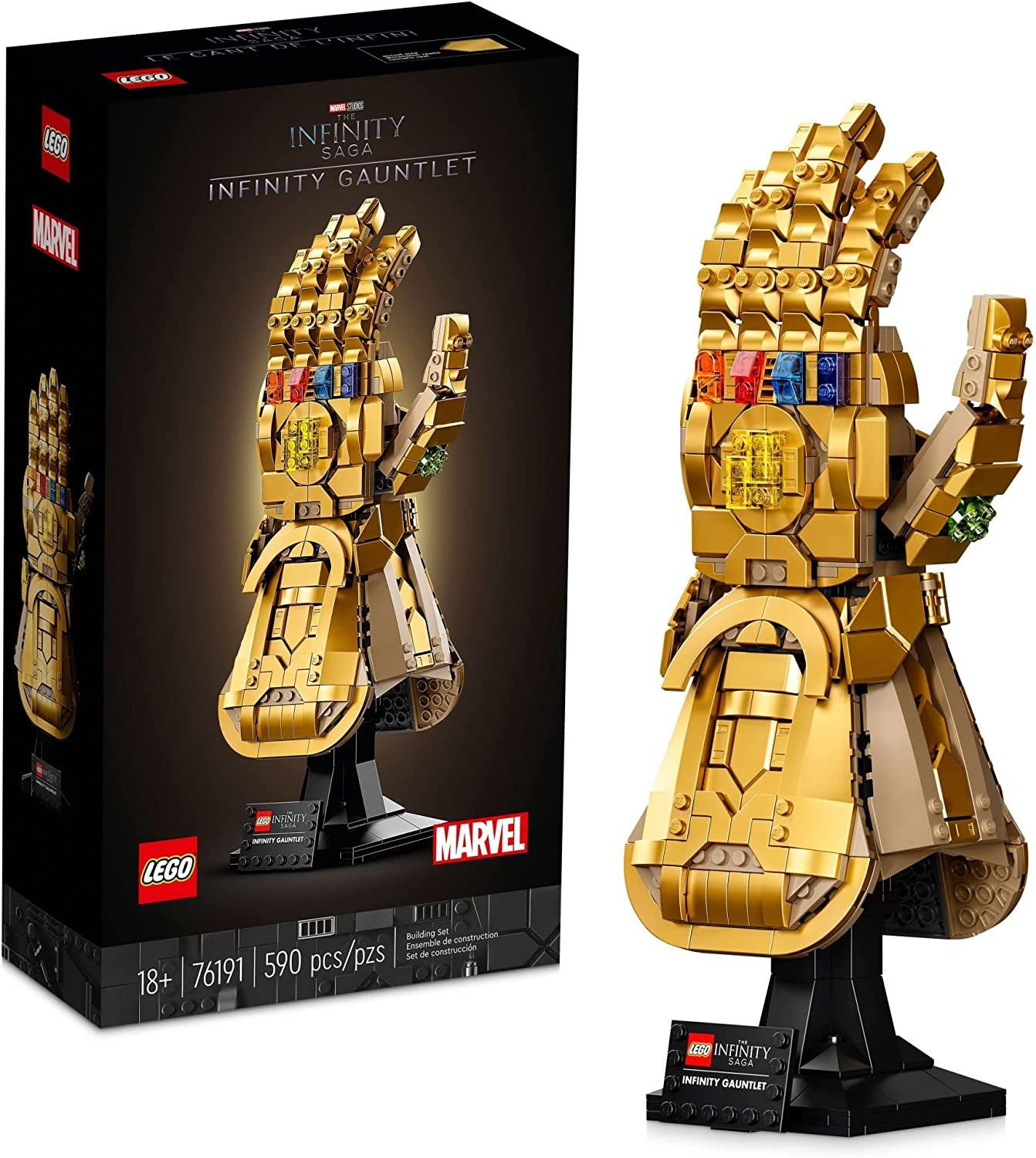 LEGO Marvel Super Heroes Infinity Gauntlet
Star Wars is an iconic series that continues to captivate audiences around the world today. The first film was released in 1977, making its birth nearly 50 years ago. And a great way to pay homage to this story is by building LEGO sets from the Star Wars collection. The LEGO Star Wars Darth Vader Helmet is an 834-piece kit that was made for adults of the ages of 18 and up. Featuring a realistic design, users can spend a few hours putting the pieces of this spectacular character together, and then add it to a shelf full of Star Wars paraphernalia.
As one of the most memorable villains of all times, Darth Vader is both terrifying and incredible, and spending some time with the LEGO Star Wars Darth Vader Helmet will only validate those feelings. When the final product is complete, you can expect it to measure over 8-inches tall, 5.5-inches wide, and 5.5 inches deep, which is a notable size. The whole kit weighs just under 2 pounds at 1.98 pounds, and it can easily be stored for use on another day if preferred. Overall, this is a phenomenal building kit for people of every kind.
Key Features
Part of a series of collectible Star Wars gear
Measures over 8 inches in height
1.98 pounds
7.52 x 13.94 x 4.65 inches
Specifications
Brand: LEGO
Set Number: 75304
Theme: Movie
Pieces: 834
Mini Figures: No
Age Suitability: 18+
Pros
Challenging but gratifying
Iconic design
Detailed
Value
Buy This Product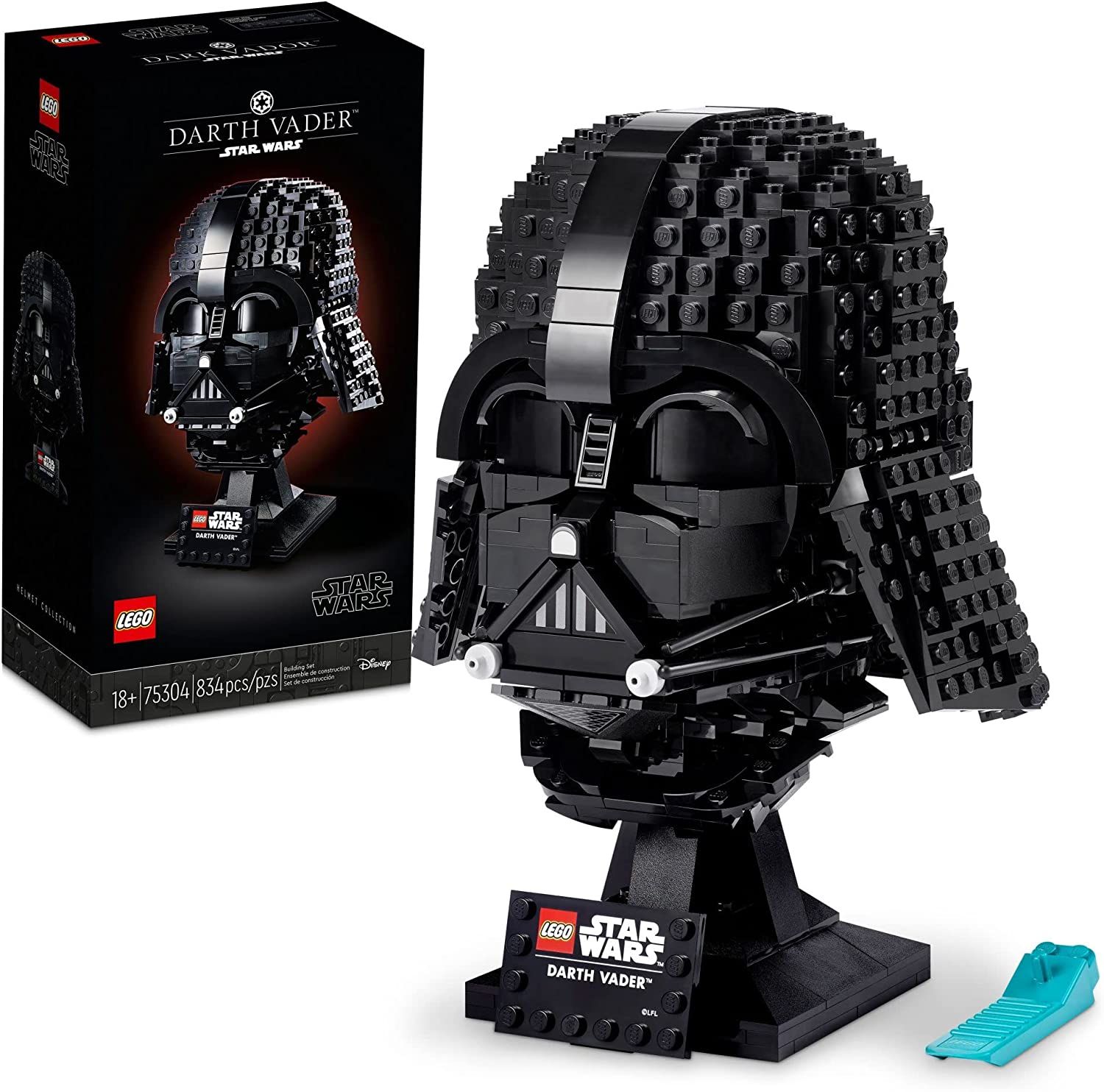 LEGO Star Wars Darth Vader Helmet
Build the San Francisco skyline in exquisite detail with this fun Lego kit. You'll build the Golden Gate Bridge, the Transatlantic building, Coit tower, Alcatraz, and even a row of the city's famous Painted Lady row houses. The finished cityscape measures about 6 inches tall, 11 inches long and 2 inches wide, the perfect size to display your handiwork on a desk or a bookshelf. Part of the Lego Architecture series, the San Francisco kit is just challenging enough for beginner builders, but fun and interesting for more experienced Lego enthusiasts.
Key Features
Features the Golden Gate Bridge
The essences of the San Fransisco skyline
One of LEGO's Skyline kits
Includes iconic San Fransisco buildings
Specifications
Brand: LEGO
Set Number: 21043
Theme: Architecture
Pieces: 565
Mini Figures: No
Age Suitability: 18+
Pros
Colorful
Realistic
Challenging
Accurate
Buy This Product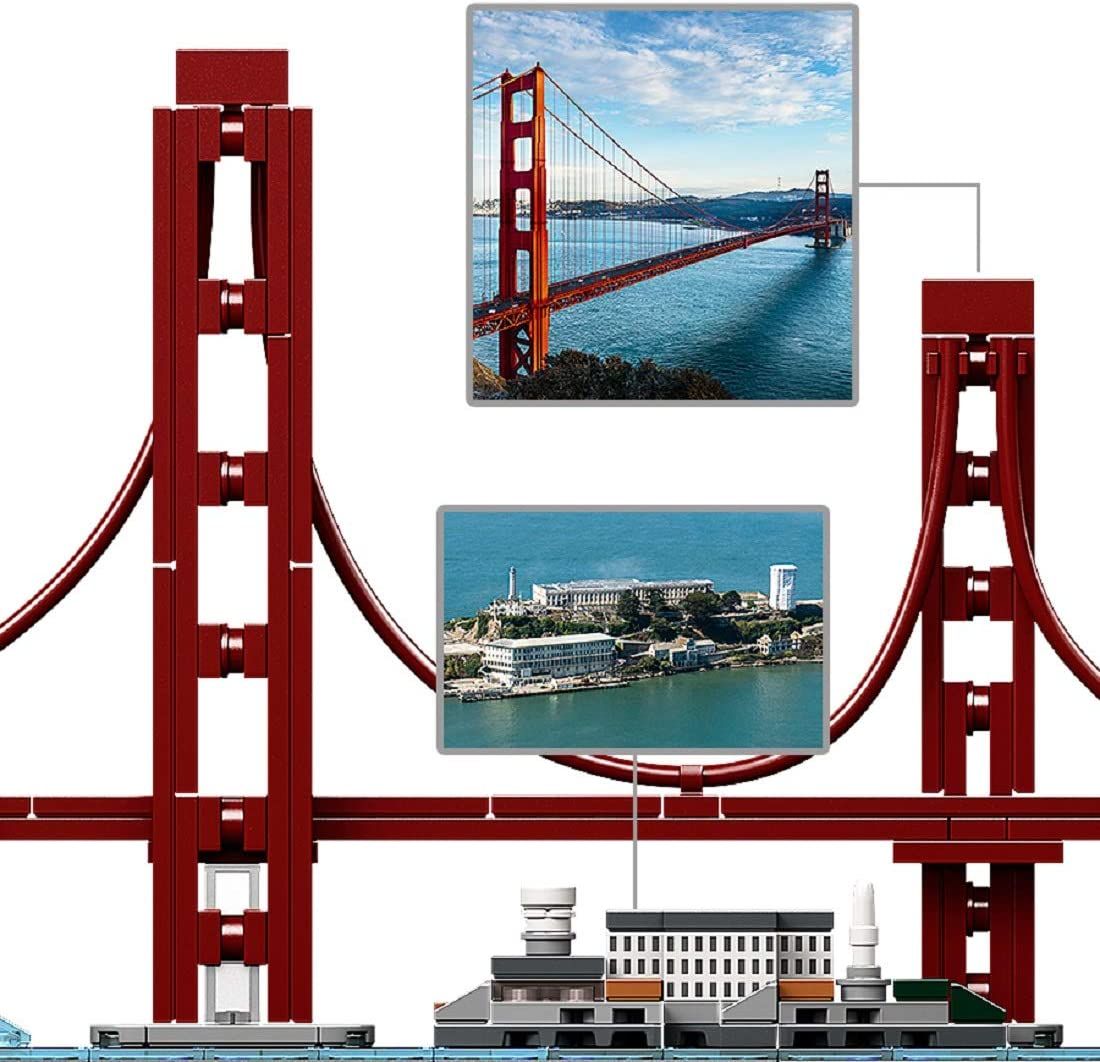 LEGO Architecture Skyline Collection: San Francisco Building Kit
It's fairly easy to find LEGO building kits that allow you to create an image, or some incredible model. But many of those kits are designed to be purely visual, instead of engaging. But the LEGO Chain Reactions kit is different. This building kit allows you to create 10 different moving structures in order to toy with the laws of physics. The kit comes with 72 different pieces, including 33 LEGO pieces, instructions, 6 plastic balls, strings, ramps, and other essential components. Once you've actually built your structure, you can continue to engage with it by using those plastic balls and ramps.
The LEGO Chain Reactions is a great gift for LEGO lovers because it continues to give back to the builder. It's a movement-oriented kit, which makes it extra spectacular. And it's just challenging enough to engage both children and adults alike. Our only complaint is that there aren't more pieces. We'd love for a Chain Reactions expansion kit that allows you to build even more structures, or to integrate some of the existing structures. But overall this is a great kit for LEGO lovers because of its style, functionality, and complexity. Few kits remain as engaging as this one after they've been fully assembled.
Key Features
9.06 x 0.87 x 10.16 inches
Easily storage
Includes more than 30 essential LEGO elements
Allows you to build 10 machines
Specifications
Brand: LEGO
Set Number: NA
Theme: Vehicle
Pieces: 72
Mini Figures: No
Age Suitability: 8+
Pros
Challenging
Physics oriented
Movement oriented
Kid-friendly
Buy This Product
If you've ever had the chance to assemble LEGOs you know how fun and addictive they can be. There are seemingly endless possibilities for fun assemblies with the right LEGO kits, and this process doesn't have to end once you've reached adulthood. In fact, LEGO caters to building lovers of all kinds, allowing you to fuel your architectural masterpieces for many years to come or build Lego homages to your favorite movies or TV shows. And the best Lego gifts for adults are challenging, engaging, and they create long-lasting fun. Whether you're shopping for yourself or for someone else, there are lots of options that will meet your needs.
Benefits of Using LEGOS
When most people imagine LEGOs, they think about building masterpieces in their childhood. But using LEGOs comes with a variety of different benefits that can extend into adulthood, too. For example, some sources suggest that LEGO use improves your eye and hand coordination. They can be a terrific tool for those who want to engage their spatial skills. But LEGOs also require problem-solving, planning, and persistence. Without these skills, you're unlikely to build the LEGO structures that you had in mind.
While adults don't necessarily need to focus on spatial awareness and motor skills, engaging with LEGO sets can continue to fine-tune those skills. And there are plenty of other benefits that come along with building your own structures.
LEGOs for Adults
It's easy to assume that the benefits of using LEGOs may be less notable when it comes to adult use. But that assumption is wrong. Adults create a "zen" environment for themselves when they play with LEGOs. This involves cultivating mindfulness and a focus. And you're likely to experience many of the same benefits that children experience while they're assembling their LEGOs.
LEGO Styles and Types
LEGOs also come in a variety of different styles and types, which makes it really easy to overlap hobbies. Maybe you really love Star Wars. Or perhaps you're someone who can't live without superheroes. Luckily, LEGO has lots of kits that feature iconic symbols and figures from these types of genres. The top 5 LEGO themes include Harry Potter, Star Wars, Icons, Technic, and City. But the brand also targets a number of other themes like TV shows, and architecture.
Choosing the Right Kit
There are a number of factors that go into choosing the right LEGO kit, but the most important ones include theme, complexity, difficulty level, and style. If you're shopping for someone else, try to find a kit or LEGO paraphernalia that highlights their other hobbies. Doing so will set you up for success in all the right ways!
Resources — The Asian Parent, Brittanica